Biography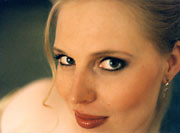 Kata Dondalska, the polish born Coloratura Soprano, started her musical career at the age of five with the violin. Aged fifteen she began studying singing.
After studying at the Academy of Music in Olsztyn, the singer, who was born in Bydgoszcz, continued her education at the Academy of Music at Würzburg, Germany. With the guidance and encouragement of her professors Grigori Zhislin (violin) and Jutta Bucelis-Dehn (singing) she received diplomas in violin and singing - both with distinction.
She was a finalist in several well known international Singing Competitions such as: the Internationaler Musikwettbewerb der ARD, the Cardiff Singer of the World Festival and the 'Sylvia Geszty' Coloratura Singing Competition in Luxemburg and holds numerous prizes.
In 2011 the Danzig Music Academy awarded her the Doctorate Degree.
Her most celebrated roles include Mozart's 'Queen of the Night' and 'Constanza', Richard Strauss's 'Zerbinetta', Stravinsky's and Braunfels' 'Nachtigall' (Nightingale), Offenbach's 'Olympia' and Rossini's 'Rosina', which she has successfully performed in opera houses such as: Grand Opera Houston, Welsh National Opera Cardiff, the Korean National Opera Seoul, Teatro Colon Buenos Aires, Teatro Lirico di Cagliari, the Nationaltheater Mannheim, Teatr Wielki Warsaw and many others.
International Concert Tours have led her into famous concert halls like the Avery Fisher Concert Hall in New York, the Disney Concert Hall in Los Angeles, the Washington John F. Kennedy Center for the Performing Arts, the Chicago Music Hall, the John Bassett Theatre, Toronto, the Konzerthaus Stockholm, the DR Koncerthuset, Kopenhagen, the Königin-Elisabeth-Saal, Brussels, the Alte Oper, Frankfurt, the Kölner Philharmonie, the Philharmonie Berlin, the Carl-Orff-Saal am Gasteig, Munich, the Konzerthaus am Gendarmenmarkt Berlin. She has worked with the Royal Philharmonic Orchestra, Liverpool, the San Diego Symphony Orchestra, the WDR Rundfunkorchester, Köln, the NDR Rundfunksinfonieorchester, Hannover, the Deutsches Filmorchester Babelsberg, the BBC Orchestra, London and with artists such as: Vasily Petrenko, Dennis Russell Davies, Roberto and Daniele Abbado, Carlo Rizzi, Edita Gruberowa, Francisco Araiza, Peter Falk, Michael Jurowski, Elmar Gunsch, Günter Wewel, Gunter Emmerlich, Barbara Bonney, Pete York and Lesley Garrett.
She is well known publicly through appearances on TV and radio broadcasts for ARD, BBC, RAI, SWR, BR, WDR, NDR, RBB.
Katarzyna Dondalska was awarded the "Warmia and Mazury icon 2018" by Olsztyn's President Piotr Grzymowicz and the Warmia and Mazury Voivodeship's Marshall Gustaw Marek Brzezina for her extraordinary artistic achievements nationally and abroad. 


top